You may have heard of the benefits of salary sacrificing some of your wages into superannuation, and the tax benefits that go along with it. But did you also know that you can now claim a tax deduction on personal after-tax contributions? Prior to 1 July 2017, only self-employed, unemployed, those who earned less than 10% of their income as an employee, or retirees, were eligible to claim a tax deduction on their after-tax superannuation contributions. However, as of 1 July 2017 it is now available to a lot more people.
What are tax deductible super contributions?
Non-concessional, or personal, super contributions are payments made from your after-tax income to your superannuation account. The money may come from your bank account, the proceeds of selling an asset or an inheritance. When it comes time to complete your tax return you can claim a tax deduction on the amount of your personal contributions for that financial year. If you earn less than $250,000 per year, these contributions will be taxed at only 15%, if you earn $250,000 or more per year than they will be taxed at 30%. These tax rates are generally less than what you would normally pay on your taxable income and therefore have the benefit on lowering the amount of tax you may pay while increasing your super balance.
Benefit of claiming a tax deduction on super contributions
A large benefit of claiming a tax deduction on super contributions is the savings that you make on the amount of tax you pay. By claiming a tax deduction on your super contributions it lowers your assessable income, thereby reducing the amount of tax payable. Claiming a tax deduction on after-tax contributions  has a similar affect as salary sacrificing. Salary sacrificing is when you make contributions to your super with your pre-tax salary. This has the benefit of instantly reducing your taxable income, i.e. you pay less tax from each pay. Personal deductible contributions have the same benefit as salary sacrificing, however the effect is not seen until you have completed your tax return.
We have provided an example below of someone who claim's a tax deduction on personal contributions vs salary sacrifice vs not claiming a tax deduction. As you can see, both the salary sacrifice and personal deductible contributions have the same result, i.e. pay less tax and increase their super more than the scenario with no deductible contributions.
Given the same result, why would you use personal deductible contributions when salary sacrificing has the same tax savings?
Not all employers will let you enter into a salary sacrifice arrangement. Some employers calculate your 9.5% superannuation guarantee (SG) contributions on your salary after your salary sacrifice contributions have been deducted, resulting in a lower amount of SG contributions being paid. By claiming a tax deduction on your after-tax contributions you will continue to receive your SG contributions based on your full salary.
If you work casually or have multiple jobs then you may not be receiving optimum SG contributions to build up your retirement savings. By making personal contributions you can increase your super while also claiming a tax deduction.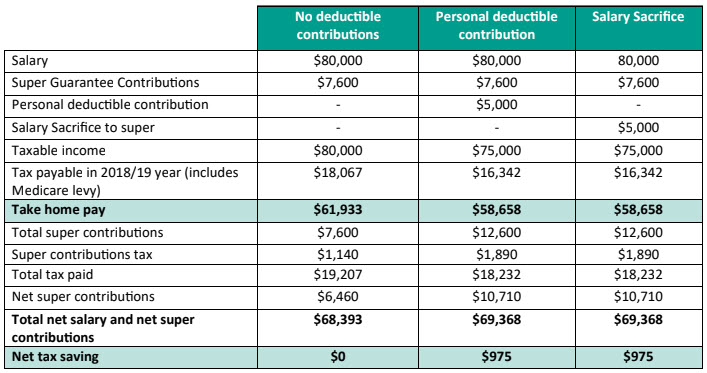 Eligibility to claim a tax deduction on super  contributions
To be eligible to claim a tax deduction on super  contributions you must be:
Under age 75
If aged 65-74 you must have met the work test
The contribution must be made into an eligible  super fund
How do you claim a tax deduction on personal  super contributions?
Below are the key steps to claiming a tax deduction on  your personal super contributions:
1. Make a personal (after-tax) contribution to your  eligible super fund
There are several methods you can use to make a  personal contribution to your super fund. The best way  to find out how to make the contribution would be to  contact your super fund, or they may have already  provided details on your annual statement on how  they accept contributions. Generally, most super funds  will accept contributions via BPAY, EFT, cheque or  through your employer making an after-tax deduction  from your wages. The amount that you contribute is up to you, however it is important to ensure that you do  not exceed the concessional contribution cap, which  for the 2019-20 year is $25,000 per year. More information on the concessional contributions cap can  be found here.
2. Notify your super fund
Once you have made the contribution you will need to  complete a 'Notice of intent to claim or vary a  deduction for personal super contributions' form. This  form can be downloaded from the Australian Taxation  Office (ATO) website, or by clicking here. Alternatively,  contact your super fund who should be able to supply  you with the form. This form must be given to your  super fund either by the end of the financial year that  you made the contribution in, or before lodging your  tax return for that financial year.
3. Receive written acknowledgment
Once lodging the above form with your super fund you  will need to wait to receive written confirmation from  your super fund that they have received the Notice of  Intent before lodging your tax return.
4. Lodge your tax return
Once the financial year is over you can lodge your tax  return. You will need to use your acknowledgment  from your super fund to complete your return. You will  have until the 31 October to lodge your tax return,  however if you have previously used a registered tax  agent to lodge your return than you may have a longer  due date. Contact your accountant to confirm when  you need to have your tax return lodged by.
If you would like more information or to discuss if this strategy is suitable for you contact your accountant and/or financial planner.